November 28, 2009
PHILADELPHIA, Pa., November 17- On the heels of releasing their best-selling memoir about their experience after the death of both of their parents, Liz and Diana Welch, authors of the "The Kids Are All Right", have partnered with Personal Family Lawyers® throughout the United States and Canada to ensure all parents know what they need to do to make sure their kids would never be left without a clear plan if anything happens to their parents.
The four Welch siblings ranging in age from age 8 to age 19 were split up after the death of their mother, soap star, Ann Williams. While it's true the Welch kids did turn out even better than all right in many respects, they can't help but wish their mother had planned better for their care, which became nearly impossible once she was diagnosed with cancer.
With the objective of ensuring that no children ever again are left without a comprehensive plan for their care, Liz and Diana Welch talked at length with nationally recognized legal expert and founder of the Family Wealth Planning Institute, Alexis Martin Neely. During this talk, the Welch sisters recounted the painful loss of their parents within years of each other, how they fared in the absence of guardianship directives, and what it was like for the four Welch children to be separated after the death of their parents. They also discussed what parents need to know about naming legal guardians and resources for getting the process started totally free.
"Especially in times of economic hardship, many parents think drafting a will or naming guardians for their kids is a 'luxury' and out of the question. But as the Welch's story makes clear, it's far more expensive and painful for children be left as orphans and financially uncared for than it is to sit down and draft these documents with a lawyer in the first place," says Mike Lichterman, the Personal Family Lawyer in Grand Rapids, Michigan.
In honor of the Welch siblings and their new book, Personal Family Lawyers® throughout the United States and Canada are offering a free Family Wealth Planning Session (including guardian nominations) to parents at http://www.PersonalFamilyLawyer.com. Use the certificate code Welch.
In the event there is not a Personal Family Lawyer or other attorney dedicated to Estate Planning in your neighborhood, you can create legal documents naming guardians for your children at the free Kids Protection Plan website. http://www.mikidsprotection.com
November 22, 2009
The Michigan Court of Appeals, in a case that was quite shocking to me (read here), recently held that the requirement that a surviving spouse consent to a beneficiary designation under ERISA trumps a pre-marriage election made by the plan participant.  In this case, the gentleman who died had named his son as beneficiary of his personal savings plan (PSP).  He subsequently married and then later died.  The wife petitioned the court to determine that she, not the deceased gentleman's son, was entitled to the funds from the PSP account.  The court determined that the clear language of section 1055(c)(2) of ERISA and the fact that the wife did not consent to the change entitled the wife to the funds.
I must admit, wording of the statute as such or otherwise, it amazes me that a surviving spouse's consent literally trumps whatever designation the deceased spouse may have made prior to the marriage.  Please share your thoughts – I'm curious to know if I am the only one who disagrees with that outcome.
November 15, 2009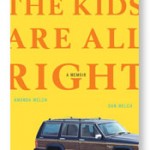 The heading of this post is also the name of a great book that I just finished reading, "The Kids Are Allright."  The book is written by Liz and Diana Welch, two of the four children around whom the story centers.  The Welch children grew up in a privileged atmosphere: a father who was a successful business man (or was he?) and a mother who was an actress and soap opera star.  Through an unfortunate turn of events, they were orphaned in the mid-1980′s.  This book describes their life before and after their parents died, how it affected them, and,ultimately, how they overcame the struggles.  At its root, the book is a story of the human spirit and how the bonds of family (and siblings in particular) can overcome even the most difficult circumstances.  There is an important legal message here too – you must plan for your children's care in your absence.  The story really brings that point home as you see the struggles faced by the Welch children upon their mother's death.  Arranging their care and providing for them was an absolute mess because their mother had neglected to properly plan (understandably so as she battled cancer in her final years).  I encourage everyone to read this book to get a real life example of the important of proper estate planning.
As an added bonus, a personal friend (and attorney), Alexis Martin Neely, recently interviewed Liz and Diana Welch to discuss the book and estate planning.  I encourage you to listen to this call.  You can find it here:  http://bit.ly/4A6KpE.  Although it will make more sense if you have already read the book, it is valuable whether you have or have not.  Please share your thoughts after reading and/or listening.
And as a reminder, I am available to hold guardianship workshops for parent groups.  It is very beneficial whether it be a school (public or private), a home school group, mom's group, dad's group, or some other parent group.  Parents will walk away with the information they need to know about proper planning and having nominated long-term guardians for their children.  Best of all, it is FREE!  If you or someone you know  is interested in having me conduct a guardianship workshop, please call (616) 827-7596 and talk with Paula.
November 9, 2009
Shocking title?  Not as shocking as the conclusions that may be drawn based on your reading of this article (http://bit.ly/2fdkiV) about Patrick and Karen Hankins.  I was shocked myself when I read it.  Did you catch what they mention at the beginning?  That he was in foster care.  Foster care is a great service offered to care for children and I applaud the families that give of themselves to care for children that end up in "the system" due to unfortunate incidents.  There are many ways children can end up in foster care, one of which is their parents passing away without properly planning for their childrens' care.   Did he end up in foster care because his parents didn't plan?  Would they have planned if they knew, ultimately, how his life would turn out?  Would planning  for his care with someone he knew (family or friend) made a difference?  I don't know the answers to these questions.  What I do know is that planning can be be the difference between a child's "success" and their "failure."  What do you think?
November 3, 2009
As any parent, teacher, school administrator, or child-focused activity center owner knows, field trips and recreational events are a common excursion for children of all ages.  An opportunity to get out of the classroom and experience learning at different venues or events, or to celebrate a birthday or other occasion.  A key legal aspect to these activities is the liability waiver and release.  These releases ask the parent to waive all right to sue if their child is injured – in effect, assuming the risk for their child's injury.
The Michigan Supreme Court recently heard oral arguments in a case that, if upheld, may threaten the future of such fun-filled activities.  In Woodman v Kera, LLC, a mother rented an indoor play arena for her son's birthday – he was 5 years old.  On the day of the party, the child's father signed a release on his son's behalf.  The boy broke his leg jumping off the top of a bouncy slide.  His mother, in turn, sued the facility owners.  The trial court dismissed the case based on the release.  The Court of Appeals, however, overturned the trial court, relying on the common law (court law) rule that a parent has no authority to release his or her child's rights.
Will the business owner be held liable despite the release?  Only time will tell, as it may still be a little while before the Michigan Supreme Court releases it's opinion (which should be available at http://coa.courts.mi.gov/resources/opinions.htm, when available).  As the father of two wonderful young children, you can be sure I will be keeping an idea on this one and will post anything I hear.