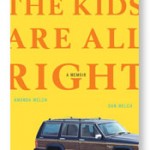 The heading of this post is also the name of a great book that I just finished reading, "The Kids Are Allright."  The book is written by Liz and Diana Welch, two of the four children around whom the story centers.  The Welch children grew up in a privileged atmosphere: a father who was a successful business man (or was he?) and a mother who was an actress and soap opera star.  Through an unfortunate turn of events, they were orphaned in the mid-1980's.  This book describes their life before and after their parents died, how it affected them, and,ultimately, how they overcame the struggles.  At its root, the book is a story of the human spirit and how the bonds of family (and siblings in particular) can overcome even the most difficult circumstances.  There is an important legal message here too – you must plan for your children's care in your absence.  The story really brings that point home as you see the struggles faced by the Welch children upon their mother's death.  Arranging their care and providing for them was an absolute mess because their mother had neglected to properly plan (understandably so as she battled cancer in her final years).  I encourage everyone to read this book to get a real life example of the important of proper estate planning.
As an added bonus, a personal friend (and attorney), Alexis Martin Neely, recently interviewed Liz and Diana Welch to discuss the book and estate planning.  I encourage you to listen to this call.  You can find it here:  http://bit.ly/4A6KpE.  Although it will make more sense if you have already read the book, it is valuable whether you have or have not.  Please share your thoughts after reading and/or listening.
And as a reminder, I am available to hold guardianship workshops for parent groups.  It is very beneficial whether it be a school (public or private), a home school group, mom's group, dad's group, or some other parent group.  Parents will walk away with the information they need to know about proper planning and having nominated long-term guardians for their children.  Best of all, it is FREE!  If you or someone you know  is interested in having me conduct a guardianship workshop, please call (616) 827-7596 and talk with Paula.